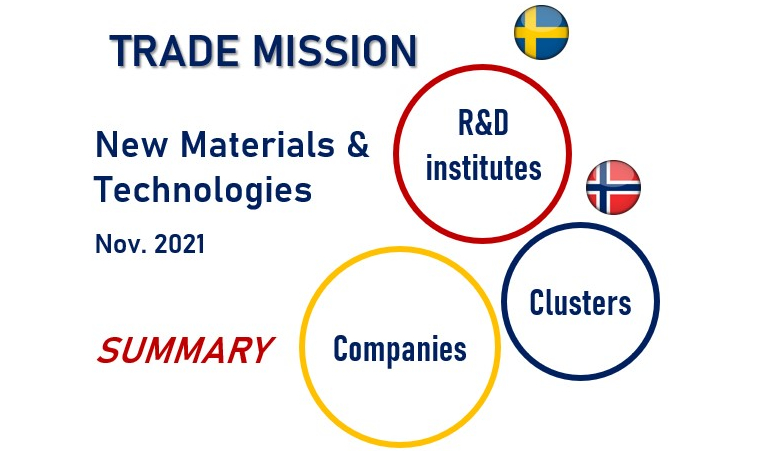 From 22nd to 26th of November 2021, a trade mission was organized in Norway and Sweden for Belgian companies active in new materials and technologies: from R&D, product simulation and innovative materials to NTD technology.
9 actors were participating to this trade mission:
•    2 research institutes: CRM Group and Materia Nova
•    5 companies: Aerosint, Armacell Benelux, Isomatex, Matgenix and Optrion
•    1 cluster: Cluster Plastiwin
This trade mission was organized in collaboration with local partners: the Norwegian cluster NCMT (Norwegian Circular Materials Technology) and Norsk Katapult senter - Future Materials
For the Norwegian part of the mission, around 55 digital B2B were held with more than 40 different Norwegian companies/universities/R&D centers.
It is still too early to evaluate the economic impact of the mission but at present, the main outputs from the participants are:
•    This mission allowed a better understanding of the Norwegian market in the new materials sector. 
•    This Norwegian market is evaluated as promising.
•    The vast majority of the Belgian participants is considering to travel to Norway in the future to meet their potential partners.
•    The digital format of the mission had several advantages: opportunity to meet with several prospects located on a wide area, low cost and time efficient.