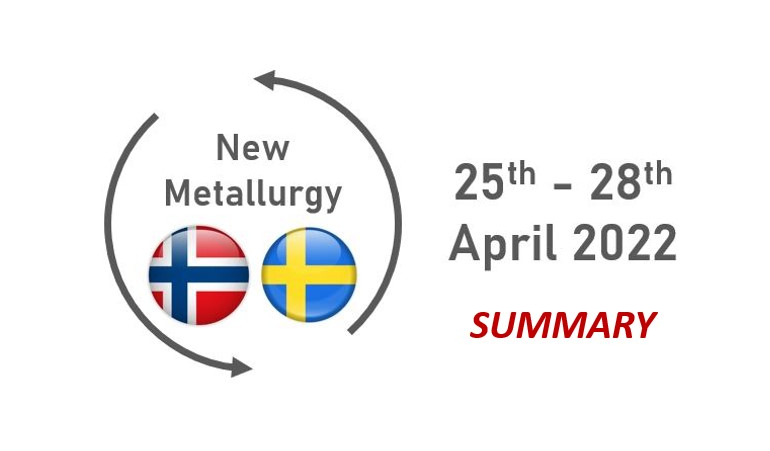 SUMMARY of the "New Metallurgy" TRADE MISSION
AWEX was organizing a collective mission in the new metallurgy sector targeting both commercial and R&D exchanges at the end of April 2022.
This « New Metallurgy » trade mission gave the opportunity to companies and institutes from Belgium, Norway and Sweden to have many fruitful discussions about 
new production methods (including zero-emissions),
circular economy-recycling
batteries and batteries production
reverse metallurgy
EU projects
and much more 
We hope that this event will be the beginning of many collaborations and partnerships.
The mission was organized by Wallonia Nordics and Pôle MecaTech.
For the Norwegian part of this mission, we could count on the collaboration of :
Eyde Cluster
Universitetet i Agder (UiA),
Norges teknisk-naturvitenskapelige universitet (NTNU)
SINTEF
Kunnskapsparken Helgeland AS
ArcticClusterTeam
Belgian deleguates, companies and research centres participating to the Norwegian part of the Mission:
CRM Group
Groupe Comet
EverZinc
Hydrometal
Industeel
John Cockerill
Matgenix
Synthetis
Université Libre de Bruxelles
Université de Liège
UCLouvain 
UMONS Recherche & Innovation
Université de Namur
The Norwegian companies and Research Units joining this mission:
Celsa Nordic AS - Celsa Armeringsstål AS
Elkem ASA
Eramet Norway AS
Ferroglobe Mangan Norge AS
Freyr Battery Norway AS
Future Materials - Norwegian Catapult Centre
Glencore Nikkelverk AS
Hagal AS
Mo Industripark AS
NORCE Norwegian Research Centre
ReSiTec AS
SINTEF Norlab AS
Stena Recycling AS
Titania AS
Vianode AS
​​​​
For questions, please contact Dominique Blanquet, Economic and Commercial Counsellor :
Phone: +47 22 12 84 00 / 02