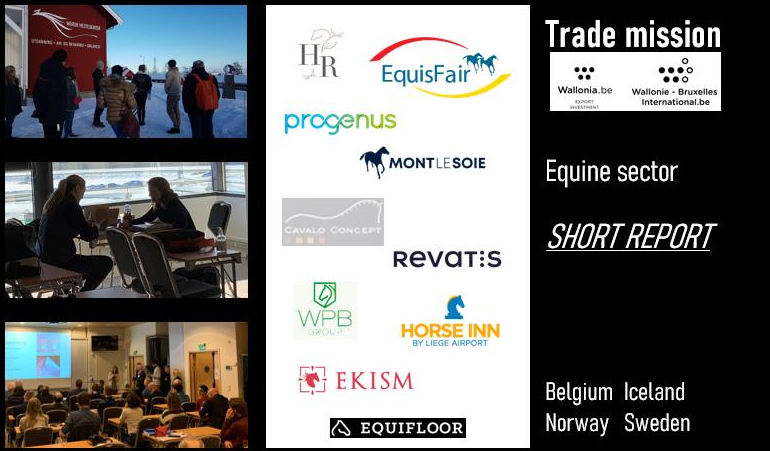 This Trade mission was organized for all the players in the horse sector (equipment, genetic, R&D, logistic,…) active in Wallonia, Norway, Iceland and Sweden. 
This event took place, first in Norway and then Sweden, at the end of February 2023.
Concerning the Norwegian part of this trade mission:
Around 40 tailor made B2B's were organized as well as a webinar.
More than 50 Norwegian and Belgian participants met during the networking evening at the Bjerke Travbane.
Our Norwegian partners were Norsk Hestesenter, Norges Rytterforbund and Det Norske Travselskapet.
Our Belgian partner was the Cluster Equisfair. 
The Belgian participants to the commercial side of this mission were:
Reinertz(Cavalo Concept) offers high-end furnishings for tack rooms and stables.
Ekism creates mobile communication applications for event organizers or sports clubs.
Flexifloor is a specialist in equistrian flooring as well as producer and installer of specially adapted products of flooring for equistrian sector.
European Horse Centre (Mont-Le-Soie) is a veterinary research centre devoted to equine performance and dedicated to breeders, as well as sporting, scientific and economic stakeholders of the equestrian sector. It also offers full equine reproduction services from stallions management to import/export of semen shipments. The R&D topics concern orthopaedic problems in growing (osteochondrosis), sport horses (optimisation of locomotion and impact of sport and prevention), …
Horse Inn  accommodates more than 10 000 transiting horses each year. This implies housing horses in its highly-specialised facilities, simplified customs clearance, ...  Located at Liège Airport, in the heart of Europe, HorseInn is within 300 km of 90 million customers.
Horse Remedy is a producer of dietary supplements and well-being / care products, exclusively based on natural products, mainly local circuit.
Progenus an innovative scientific company, offering laboratory services such as DNA Service analyses for genetical diseases detection, certification of identity and parentage. Progenus is also carrying carrying tailormade R&D services and DNA kits.
Revatis has its main activity in the Regenerative Veterinary Medicine. Revatis offers veterinarians and horse owners innovative and effective treatments for the tendons and joints pathologies in sport and leisure horses. Their technology and products improve the well-being and performance of horses.
WPB Group is a producer of skincare products like balms. WPB Group has a stand at the EuroHorse in Gothenburg (23-26 of February-stand B0109).
For further questions, please contact Dominique Blanquet, Economic and Commercial Counsellor :
  • Phone: +47 90 777 459 or +47 22 12 84 00/02