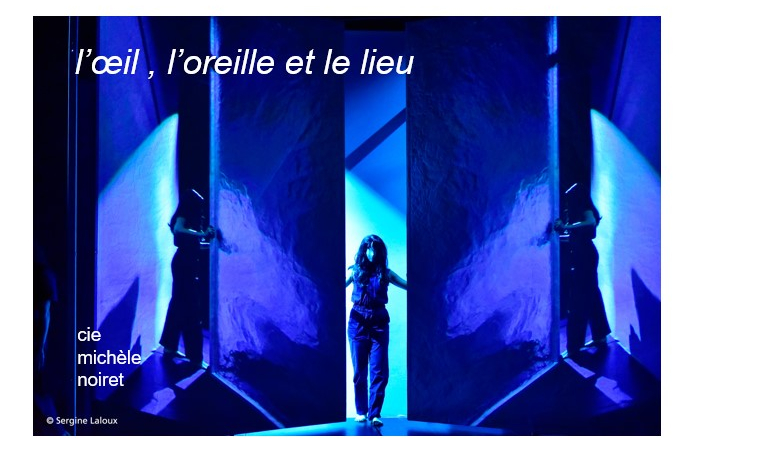 l'œil, l'oreille et le lieu  - A dance-cinema Duo - 55'  
CREATION: 1, 2, 3, 4 September 2022 - Stormen Konserthus / Bodø Biennale, Bodø (NO) 
                     8, 9, 10, 11, 12 September 2022 - Baerum Kulturhus, Sandvika-Oslo (NO) 
SYNOPSIS: The action takes place in a future time when most of the insects we know have disappeared. This loss has profoundly transformed our society and our connection with the world. Places dedicated to experiences that call to mind memory and the collective unconscious have seen the light of day with the aim of raising the awareness of those who have not known this world and perhaps one day seeing it return... 
CHALLENGES: In l'œil, l'oreille et le lieu, Michèle Noiret wishes to share the wonder and fascination for the world of insects and the sorrow, the anger felt at its gradual disappearance. The choreography weaves its way through this anger just as much as it is inspired by the fantastic universe of insects, of which the complexity of rhythms, attitudes and the decomposition of the movements seem strange to us. Such phenomena as the cocoon, metamorphosis, mating and the capture of prey are so many variations that impregnate the movements, the image and the stage design. In the way of a science fiction movie, the choreographer wishes to address these ecological and societal questions. Without wishing to be didactic, but with the desire to captivate, surprise, puzzle, win over, question the audience.
Michèle Noiret is a recognised artist in the world of contemporary dance in Belgium and abroad. From one creation to another, the choreographer loves to cloud things and sow confusion. She reinvents and deepens the concept of « dance-cinema » by the recurring questioning of movement, music, light and image.
ALL THE DATES:
Bodø - Bodø Biennale
   - 1 septembre : Stormen Konserthus - 13h (school) - PREMIÈRE
   - 2 septembre : Stormen Konserthus - 18h
   - 3 septembre : Stormen Konserthus - 17h 
   - 4 septembre : Stormen Konserthus - 16h 
Sandvika/Oslo
   - 8 septembre : Baerum Kulturhus - 12h30 (school)
   - 9 septembre : Baerum Kulturhus - 10h and 12h30 (school)
   - 10 septembre : Baerum Kulturhus - 19h
   - 11 septembre : Baerum Kulturhus - 18h 
   - 12 septembre : Baerum Kulturhus - 10h and 12h30 (school)
Haugesund 
   - 15 septembre : Festiviteten Konserthus - 19h
Sandnes 
   - 20 septembre : Sandnes Kulturhus - 19h
Kristiansand 
   - 22 septembre : Kilden Performing Arts Centre - 19h30